Since my last post here, we did three weeks of plant surveys, of which I missed the middle week while visiting the National Native Seed Conference in Santa Fe. The conference was fun, but wandering around in the desert is better, so that's what I'm going to talk about. Luckily, the crew did fine without me, although one window at our office did suffer the assault of a trailer hitch. I did the same thing to a post at a hotel last year, but the post just needed to be put back on its footing while the window requires a bit more intervention. Gist being: be careful backing up in those big pickups, OK? (And BLMers getting new vehicles: maybe they don't all need to be huge pickups. Sometimes we need 'em; more often, they're a hindrance in the field as much as in town.)
Anyhoo, here's the gist from the recent stint of rare plant surveys: We found rare plants! Specifically, about 85 Pediomelum pentaphyllum and about 40 Peniocereus greggii var. greggii. We also got to see some of the varying results of previous herbicide treatments. These treatments are intended to restore grassland by removing shrubs that have become more abundant due to grazing. Sometimes, it works admirably–especially at a little higher elevations where we're near the current shrub / grass transition zone or in places where grazing pressure has dropped down towards sustainable levels. Sometimes, it's basically a wash, neither better nor worse. Sometimes, removing shrubs just gives invasives a chance to take over. I think we're getting better at doing more "best case" and fewer "worst case" herbicide treatments, but when you spend a couple days out around one of the worst case scenarios–basically, tumbleweed heaven–it erodes optimism and belief in progress somewhat. Luckily, I think Las Cruces District is ahead of the curve on putting monitoring plots in place so that we can learn from our mistakes and move towards the holy grail of Adaptive Management. Mistakes are unavoidable in land management; if we're doing it right, we don't repeat them.
Enough of that, here are some pictures!
Pediomelum pentaphyllum habitat: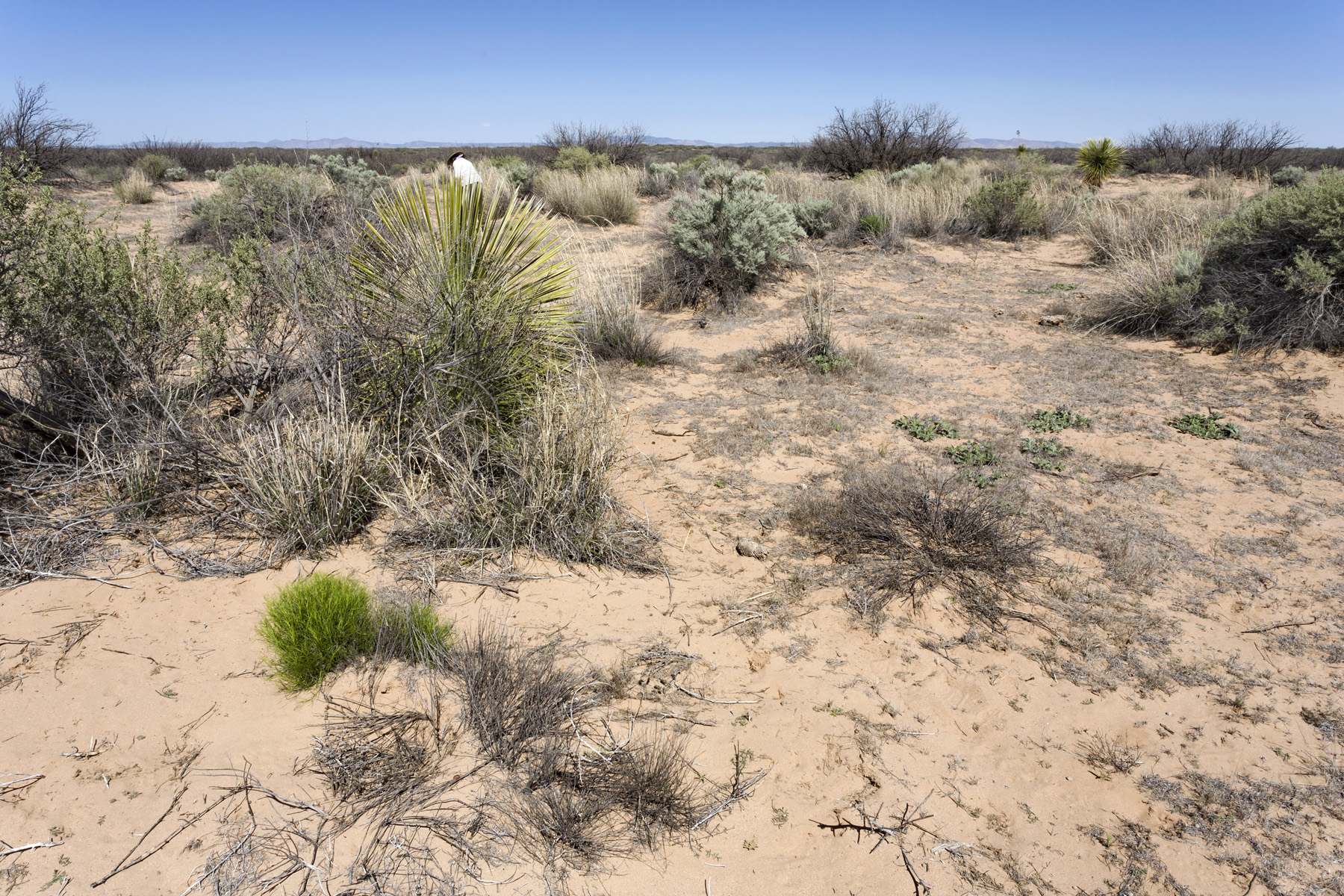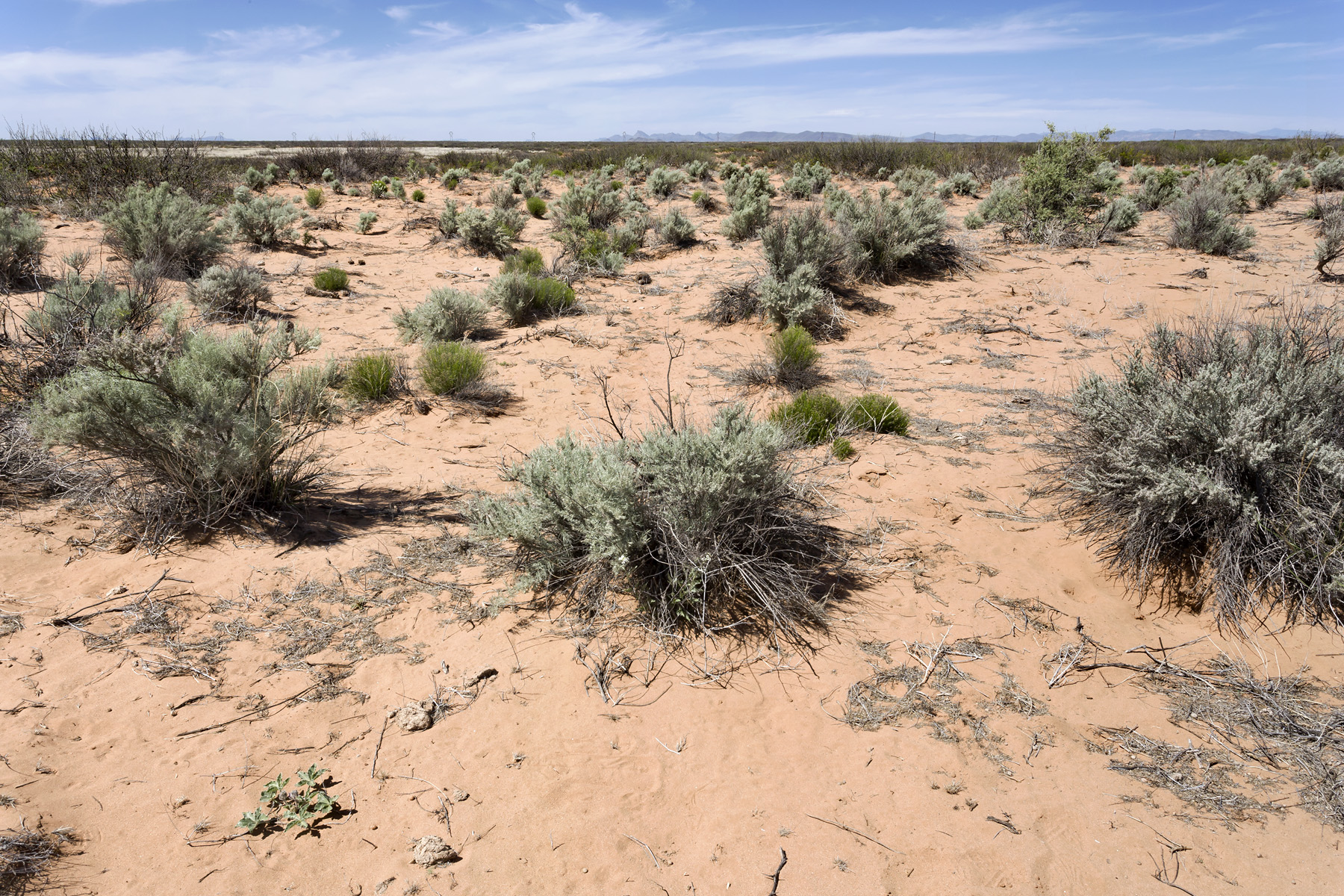 And Pediomelum pentaphyllum: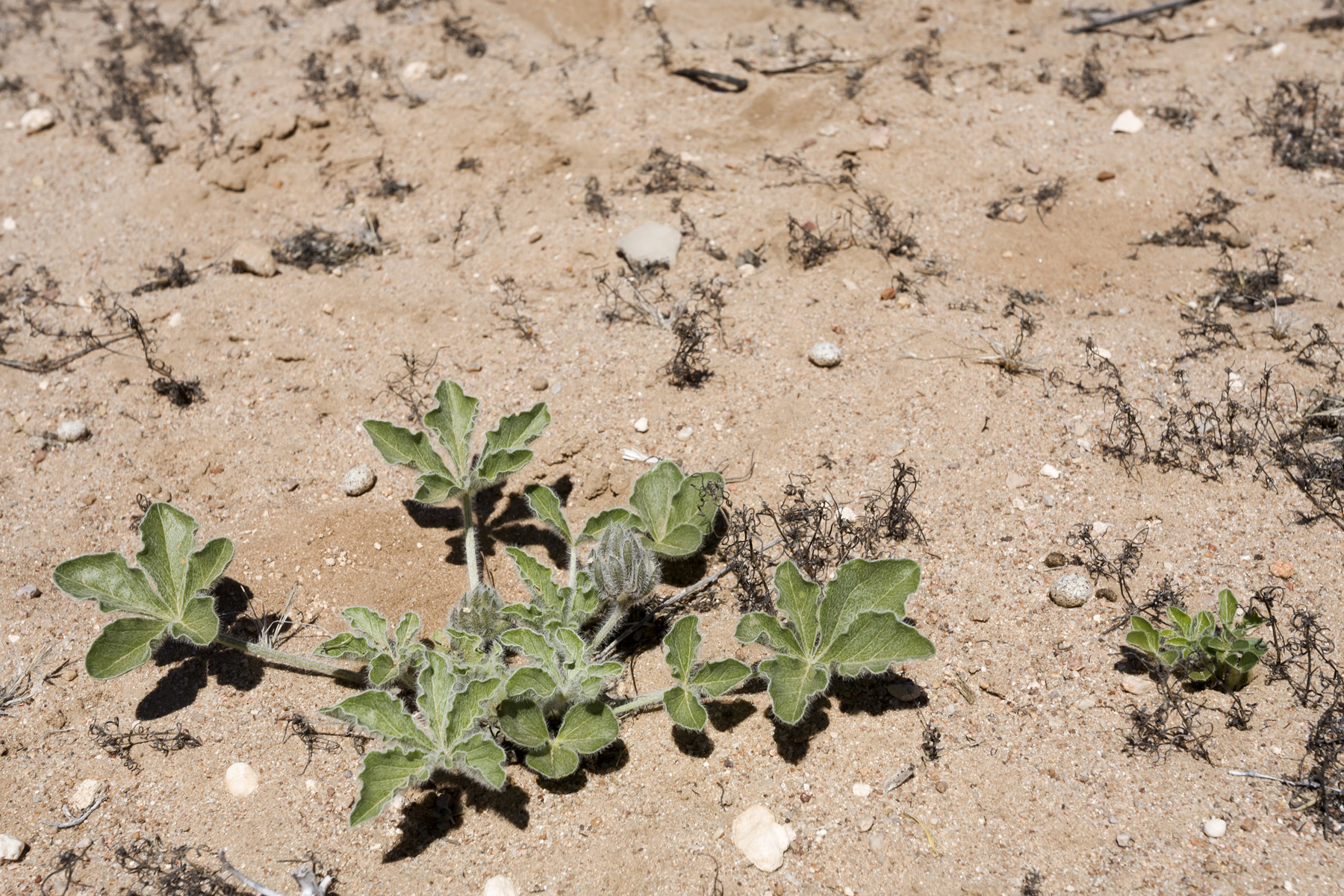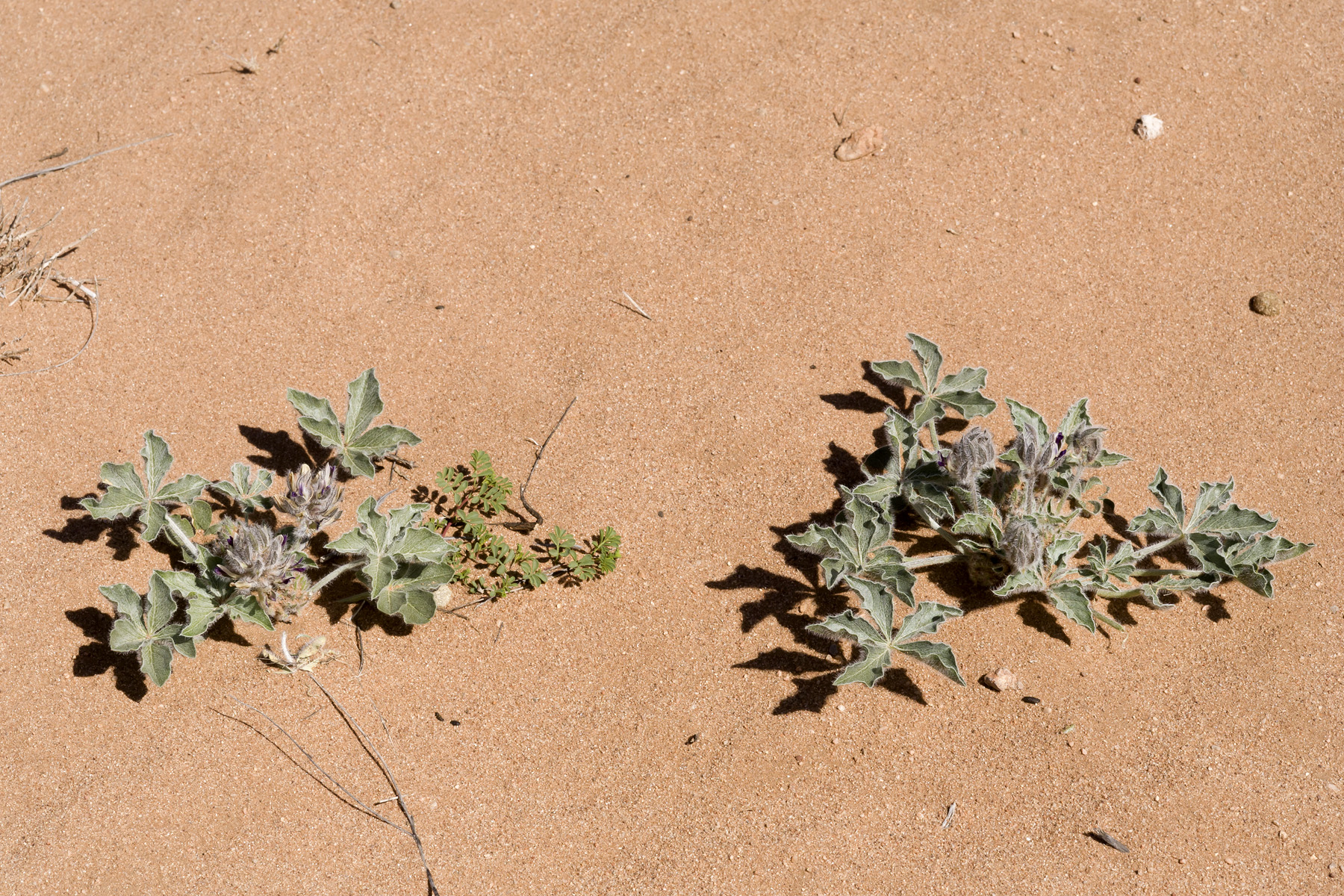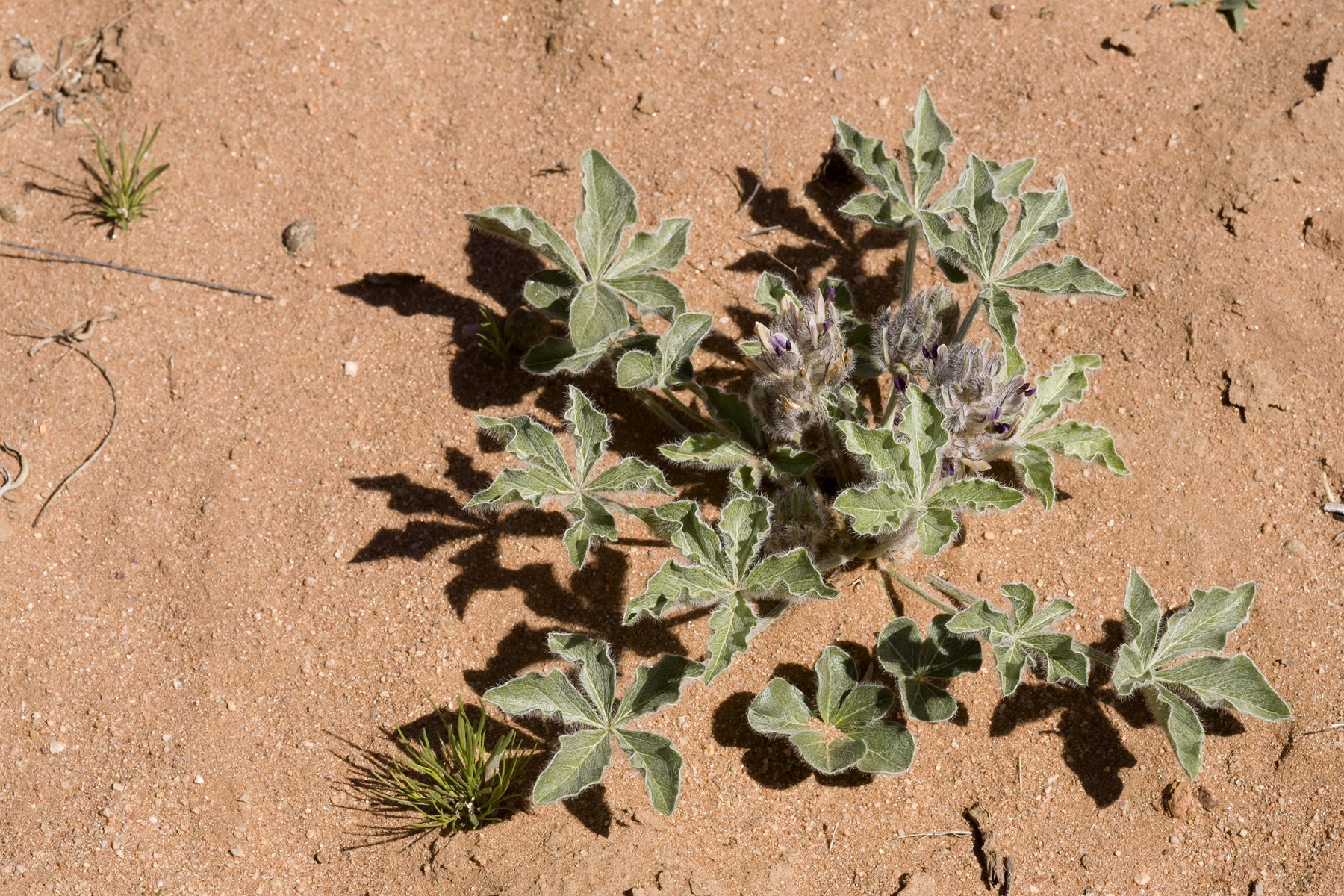 Peniocereus greggii var. greggii habitat: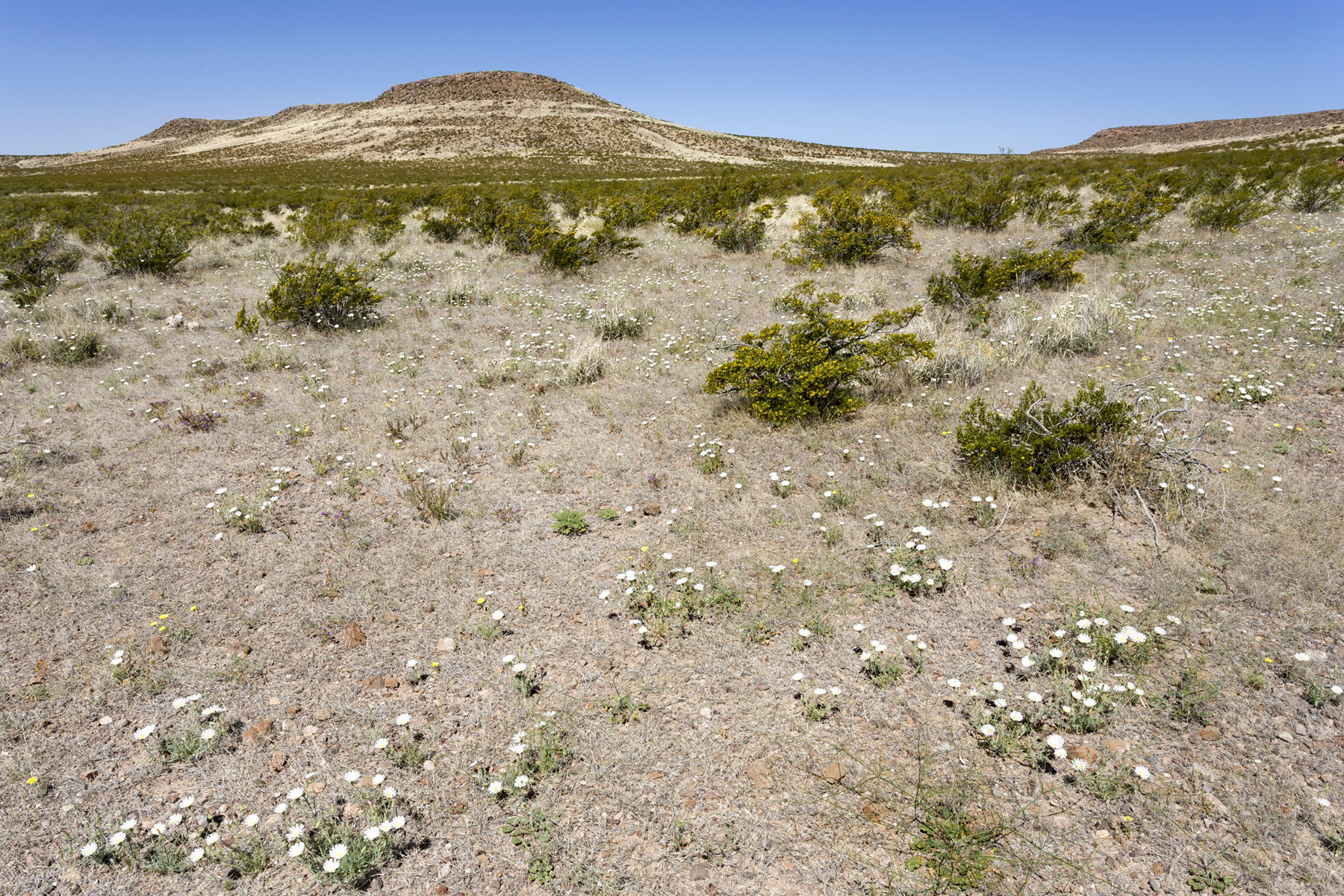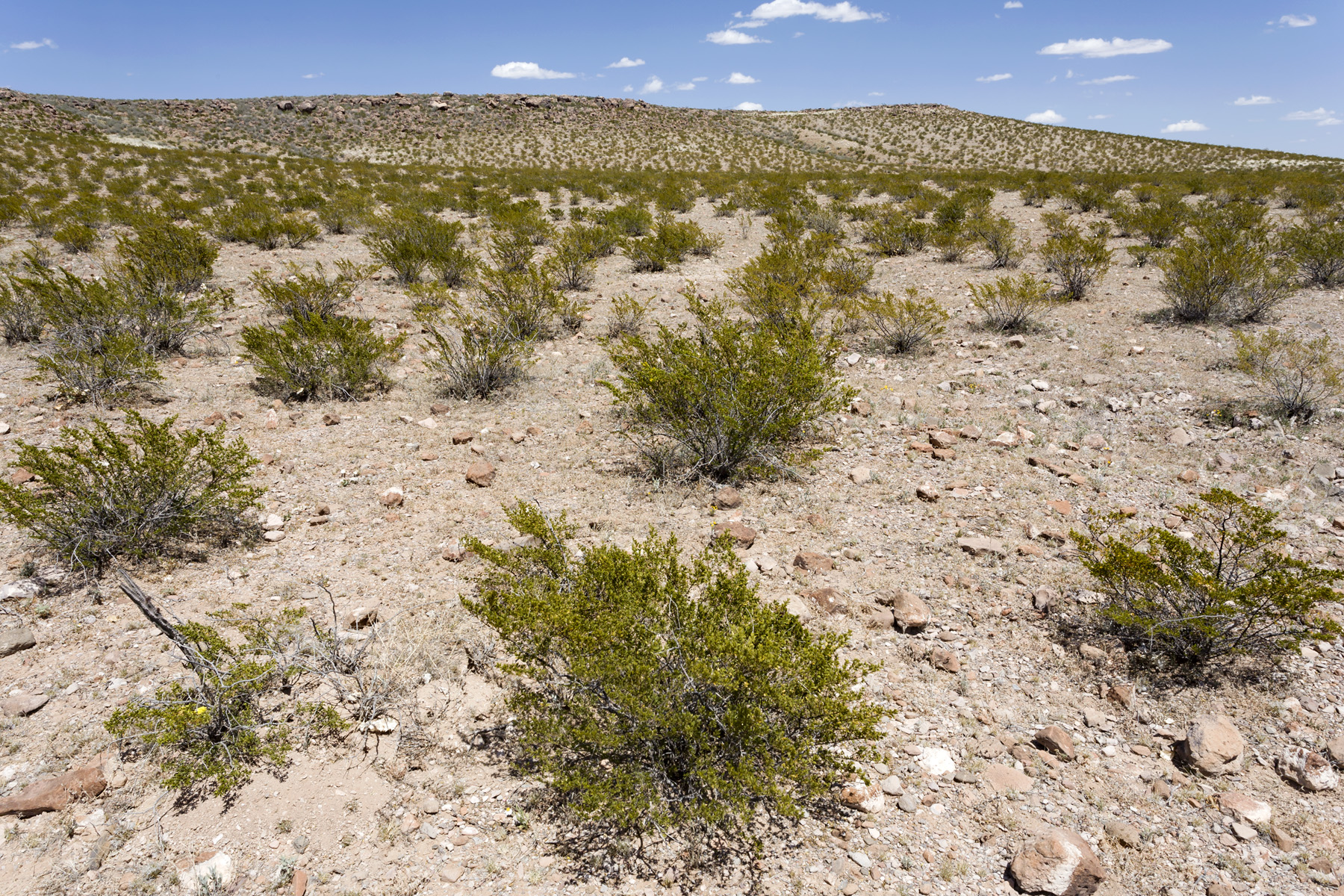 And Peniocereus greggii var. greggii: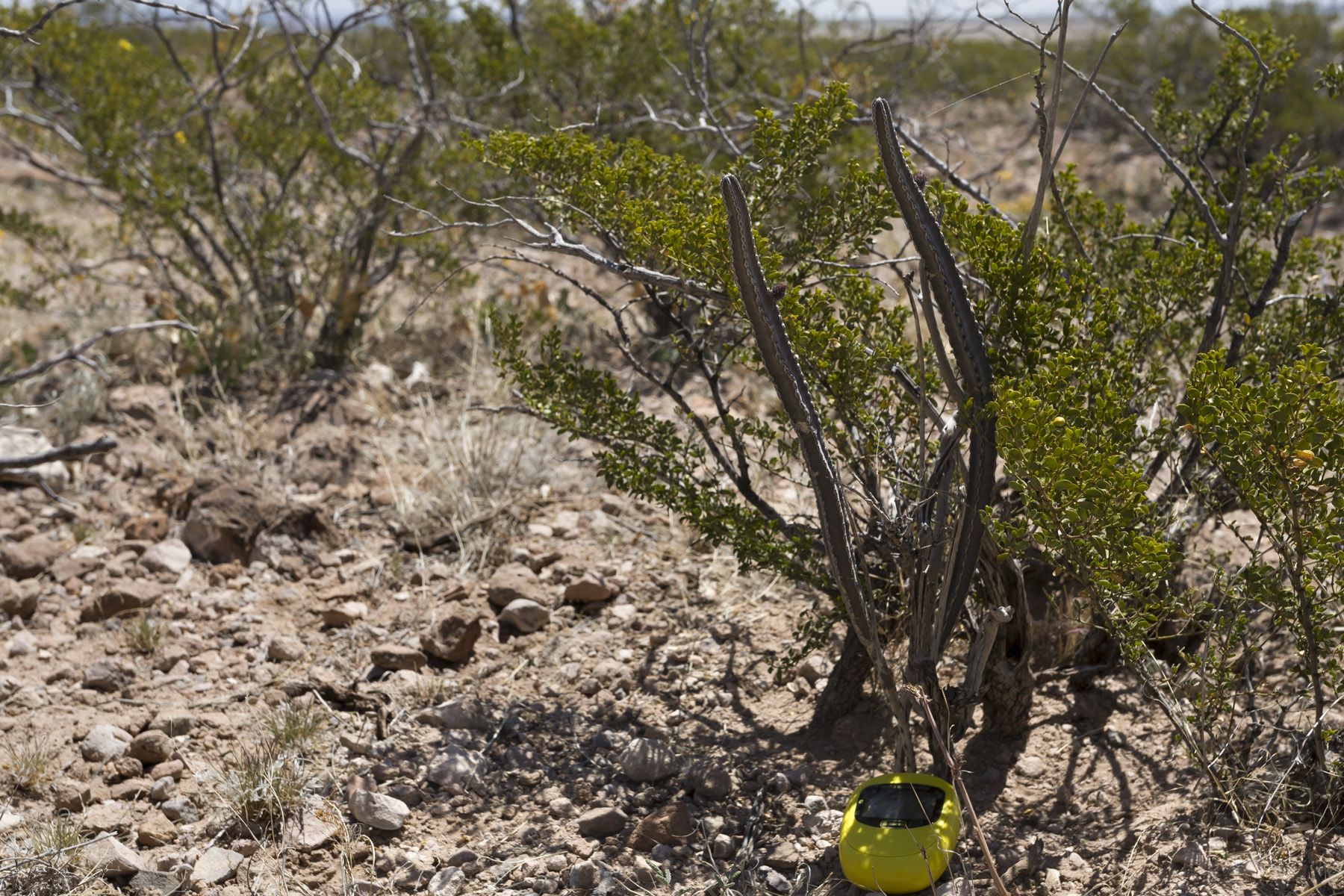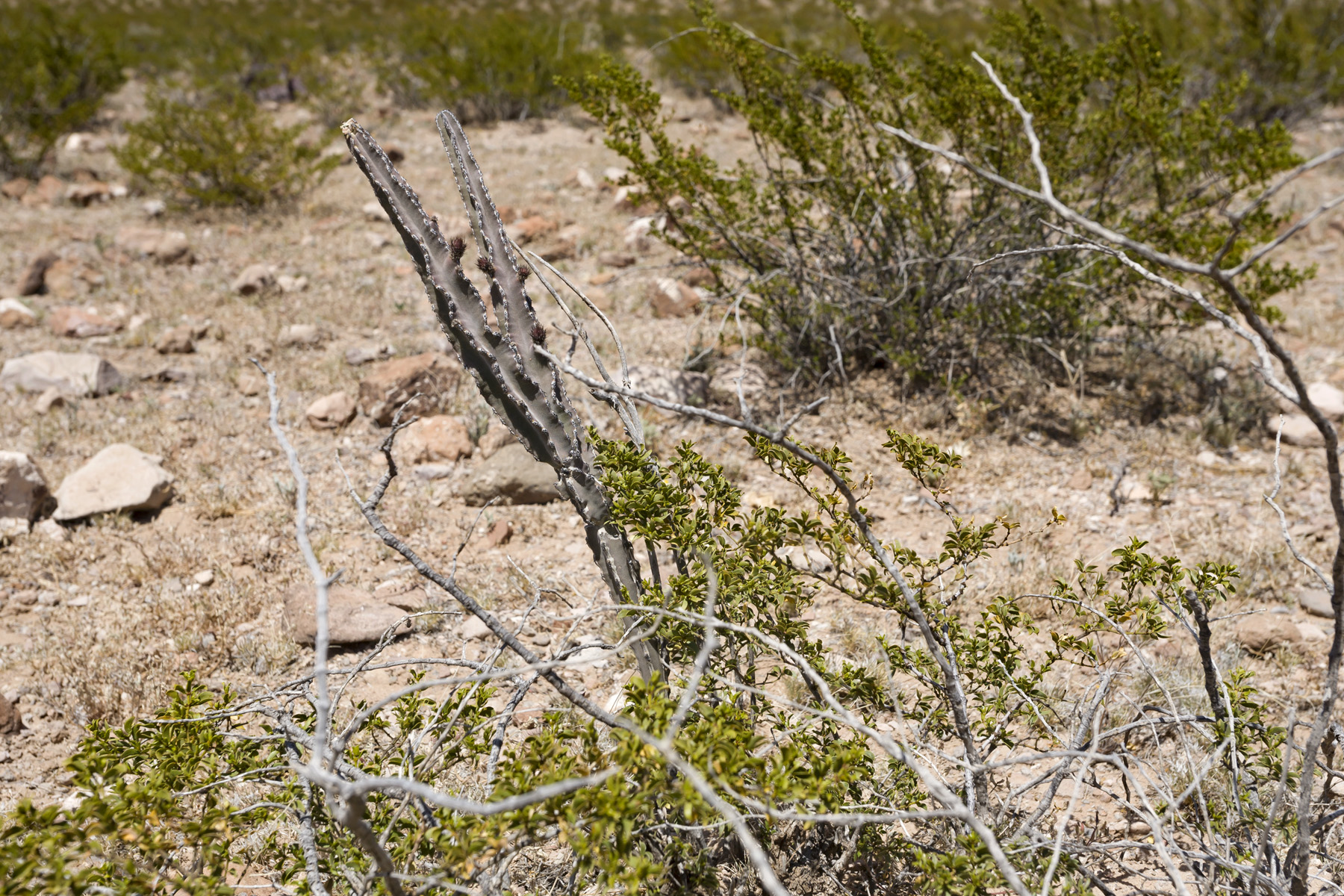 Also, Crotaphytus collaris fuscus: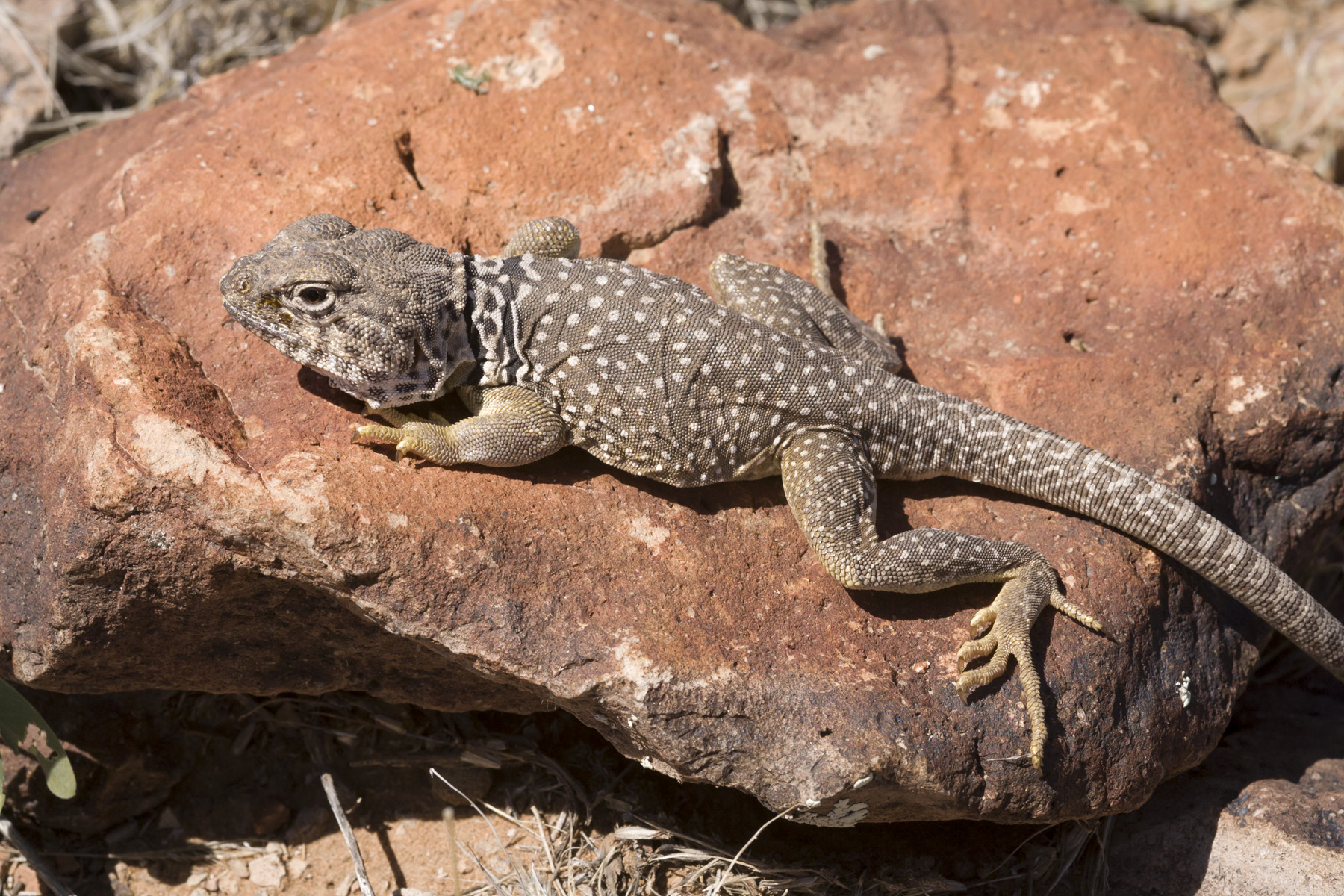 If you were paying attention on the Peniocereus greggii var. greggii photos, you noticed that they have flower buds. I'm headed out shortly to find them with flowers, so that I can get pictures of this species' ephemeral but spectacular stage in which it does not look like a dead stick.
In other news: I looked for a very rare species (Spermolepis organensis) and didn't find it. Two papers from my academic days are about to be published, which will result in five new species in New Mexico. I head off to seed collection training in California next week, and rangeland health training not long after. The rangeland health training is, luckily, near Moab–which means I can drive up and botanize en route. If I can drive, I do; if I can take a couple extra days to poke around on the way, I do that as well. Why go somewhere awesome and not dedicate some time to wandering around? (Just don't forget important items at your campsite, because you'll have to backtrack and retrieve them–did that a couple weeks ago, and not for the first time. Hopefully the last. Probably not the last.)
Also, Shameless Plug for Commerce: That little yellow thing in one of my Peniocereus greggii var. greggii photos is the Bad Elf GNSS Surveyor. It'll send 1-meter accuracy locations to an iPhone, iPod, iPad, or probably other Bluetooth devices. It isn't cheap but it's cheaper than a Trimble (even if you have to buy the iDevice to go with). The available apps are better than ArcPad, too. Trimble wins only if you need submeter, have a big pile of cash handy, and don't mind a dramatically worse user experience. I am not associated with Bad Elf in any way other than as an enthusiastic customer. My assessment is not that of the Chicago Botanic Garden nor of the BLM.